*This post does contain affiliate links.*
It's the best time of the year when finals are finally over + it's about time to go home for the holidays. However, traveling home can be stressful when you attend school that is far away from your hometown. Luckily, you can still travel lightweight and carry-on only when going home to see your family.
The Carry-On Suitcase
In order to travel carry-on only, you'll need to have a trusty suitcase to lug around with you. Below are some of my favorite picks for carry-on bags. A silver suitcase? Yes, please.
I also love this carry-on suitcase from Delsey. It's originally $320, but Amazon has it listed for $70 (and free shipping with Prime!) The suitcase also has a 4.5 star rating, which is pretty awesome if you ask me.
How to Travel Carry-On Only With a Capsule Wardrobe
Traveling with just a carry-on may seem impossible when going from campus to home, but it can be done! I've selected my essential pieces for packing. A capsule wardrobe like this allows you to easily mix and match separate pieces to create endless outfits. This way, you won't have to re-wear the same outfit over and over again, but can still pack light.
Things to Remember:
Pick a color theme or scheme. Obviously, from what you can see in the photo below, I love dark colors and wearing black a lot. However, I totally understand that not everybody enjoys wearing all-black, every day! When packing your carry-on, try and keep the articles of clothing in a similar color theme. This way, you can easily intermix tops and bottoms without much thought.
Roll your clothing to save space. Learning this packing tip seriously changed my travel-life. Rolling all of your tops, jeans, and undergarments will save a ton of space when compared to just simply folding.
Don't forget to bring a personal item. I like to bring a purse or my Herschel backpack as my personal item when traveling carry-on only. I also put all of my chargers and electronic devices in here so I can get some work done while on the plane!
Wear your winter jacket on the plane. Big, puffy winter jackets can take up a lot of space. This is why I always wear mine while at the airport. Plus, it's nice and snuggly to use as a blanket in chilly airplanes.
---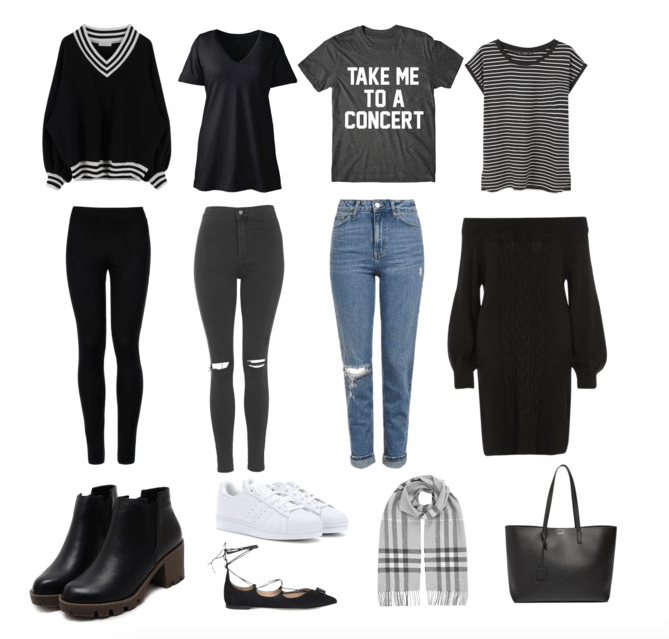 The Packing List
Chunky Sweater
Packing a great chunky sweater will be a lifesaver over winter break. Sweaters are perfect for layering under your winter coat and add some cozy comfort to any outfit. My favorite sweater at the moment is this one. It's only $16 and I love the dark grey color.
V-Neck Tee
I have to admit, I always consider comfort when getting dressed in the morning. V-neck shirts are my favorite because they aren't too tight and always super soft.
Graphic Tee
If you know me, you know that I absolutely love graphic tees. I feel like a girl can never have too many! The sayings on them are honestly just too funny! My current favorite is this pack that includes 3 shirts: Black, White, and Warm Grey.
Striped Top
I love a striped top for the winter season because it can be easily dressed up or down. Pair it with some leggings for a cozy night in, or with a pair of black skinny jeans and flats for dinner out with the family.
Black Leggings
My current favorite leggings are from Lululemon because they aren't see-through, and super durable. However, I do have tons of leggings from places like Target, LOFT, and more. Leggings are a go to when lounging around the house and a must-have for winter break.
Black Jeans
Black jeans are a staple because they can double-up as your "fancy pants" if you need an outfit for a holiday party, etc. Topshop jeans are my absolute favorite jeans of all time because they tailor their jeans to fit Petite and Tall women perfectly.
Blue Jeans
You can't leave your favorite pair of blue jeans back at your dorm! Throw these in your carry-on for creating easy go-to outfits. My favorite way to pair blue jeans is with a graphic tee and some fuzzy socks like these.
Knit Dress
I normally bring home a knit dress for the holidays in case I will be attending any events or parties. If you don't have anything like that to attend, think about whether you will need "church clothes" or a Christmas Eve outfit. The knit dress is a staple and will keep you warm and cozy while looking cute 😉
Chelsea Boots
Oh, how I love Chelsea boots. These boots are a staple for winter and can withstand the slush and snow of the season. Plus, there are tons of inexpensive brands that offer great Chelsea boot styles. My favorite pick right now are these boots from Sam Edelman.
Sneakers
I'm the type of girl that lives in sneakers. Adidas, Converse, Vans…I love 'em all. My go-to pair for the winter months are these white Adidas. They pair effortlessly with black/blue jeans and are great for running errands/shopping for holiday presents!
Looking to get your loved ones holiday gifts but don't have the budget? Check out these helpful posts:
Flats
Flats are great to pack in a carry-on because they easily fold up and take up almost no precious suitcase space. Plus, they are perfect for a night-out with friends or anything that you may need to look a little more dressed-up for.
Scarf
What's winter without a great scarf? I love scarves because they are inexpensive, come in a million prints, and layer perfectly to keep me warm in the cold Cleveland weather.
Reversible Purse
A reversible purse is a great option to bring with you on the plane as your one personal item. The bag itself will hold all of your little personal belongings (headphones, phone charger, books) while it can double as a purse when you finally make it back home. This one is only $40!
Shop the Capsule Wardrobe:

---