If you have highlighted, blonde or even platinum hair…you know about the dreadful reality that is brassy, yellow hair. Sure, your hair may look awesome and ash-y for a few weeks, but after showering regularly over time, the yellow tones come out to play. And it's not pretty. If you're looking for how to get rid of those ugly yellow tones in your hair, you're in the right place. In this post, I'll be teaching you how to fix that hair (at home), and give you some recommendations for the best toner for blonde hair.
If you're looking to go blonde anytime soon, check out my post here about How to Bleach Hair at Home.  Warning: bleaching your hair is very addictive 😉
How to Use Toner for Blonde Hair + Get Rid of Brassy Color
What causes brassy hair?
Great question. Understanding what causes brassiness may help you prevent it in the future. Here are some things that may be contributing to that gnarly yellow:
Using hair products that aren't right for your bleached/color-treated hair. (Especially using shampoos that contain sulfates!)
Swimming in chlorinated pools and sun exposure – otherwise known as some of the best things in life.
Showering in water with high mineral deposits.
Your natural hair color may be pulling through the bleach.
While some of the above things can be prevented, others cannot. Don't worry! There are lots of fixes for brassy hair, and it's really all about maintenance. Bleaching your hair isn't a one-time-only deal, as you are probably going to tone your hair every 2 months or so. Quick art lesson: Yellow and Purple are opposites on the color wheel. Using purple on yellow helps to cancel the color out, and leaves hair a more neutral, white/ash blonde. It's the same concept you use when you use green-tinted concealer/color corrector on your red breakouts. Simple (and genius!)
Keeping up with maintaining your ash blonde color can be as easy as swapping out your current shampoo/conditioner routine.
Which reminds me…
You NEED This Purple Shampoo + Conditioner!
One of my favorite drugstore haircare brands has recently released a line of products for blondes. I love the products, especially since the line includes Purple Conditioner AND deep conditioner. I've found in my past that brands normally only produce purple shampoo and skip the conditioner. Soooo not cool. But HASK has come to the rescue! The deep conditioner is my favorite product and makes my hair feel silky smooth while toning the color. It's a double whammy!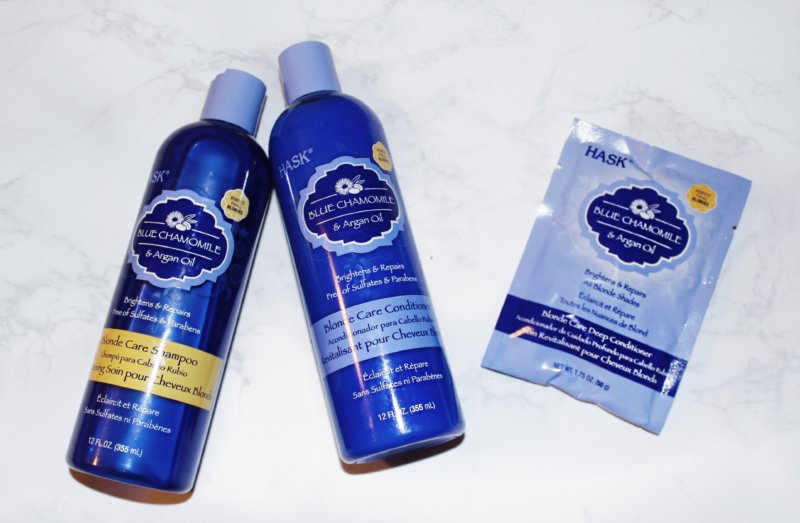 I love the way these products smell and make my hair feel. Plus, I feel good about using them knowing that I'm not putting any harmful sulfates on my locks. In fact, the shampoo + conditioner is free of sulfates, parabens, phthalates, gluten and drying alcohol. Whew!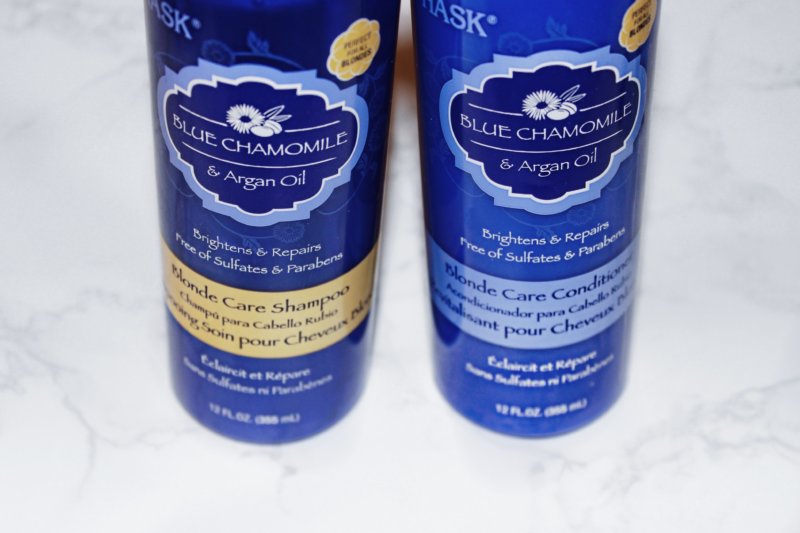 These HASK products are available for purchase on the official website and at Ulta!
My Favorite Toner for Blonde Hair
There are so many different toners and dyes on the market for blondes, it can be hard to navigate. I've tried a lot of different brands and products and finally, have landed on one that I really like and see great results with. I've mentioned my magic concoction before on the blog in my How to Bleach Hair at Home post, but I'll say it here again: Manic Panic's Semi-Permanent Hair Dye is where it's at.
Say what?! Hair Dye?! Don't panic. Mixing semi-permanent hair dye with a developer (I use Volume 20) helps to dilute the purple dye, and works fast on any yellow tones in hair.
Click here to shop Manic Panic's semi-permanent dye. It's cheap (only $10!) and available on Amazon.
How to Use Toner Correctly
If you're a blonde, toner is your new best friend. But how do you use it without turning your hair purple?!
The most important part of using toner and toning your hair is to use the correct amount/parts toner : developer. (If you don't have a developer on hand, you can substitute conditioner for it.)
Here are some tips for using toner:
Only apply toner to the parts of your hair that are especially brassy/yellow. Usually, this will be towards your roots, and not your ends.
Test a small section of your hair before applying toner all over your head. Put on a timer and see what amount of time the toner needs on your hair to start working (usually about 15-20 minutes.)
Don't panic if your hair does have a slight purple/silver hue after toning. It will wash out after a couple showers! (That's the beauty of semi-permanent dye.)
If you're a beginner, consider getting help from a friend/family member to reach the back of your crown/head.
---
How do you keep your hair from looking brassy and tired? Let me know!
Pssst! If you liked this post + learned something new about toner for blonde hair, I would love for you to share it with your friends. Sharing this post takes just a few seconds + helps with the growth of this blog. Click the blue social sharing buttons to the left or at the top of this page. Thank you!
*This is a sponsored post and does contain affiliate links. However, the products mentioned are all my tried-and-true picks. All opinions in this post are my own and honest.*