Below I have come up with four easy ways to save money in college that I think are completely do-able and realistic for anyone in college. I truly think that if you are at least mindful about the money you're spending, you'll be better off and at least not "surprised" as to where all your finances went.
There's no doubt that college is extremely expensive. Besides paying tuition, you also have to keep in mind the dozens of other expenses that add up fast, like room and board, meal plans, textbooks, etc. However, college can also be a great time to start getting ahead on your finances and working to save money for your future.
If you're looking for ways to make money in college, I have a great blog post all about it which you can read by clicking here. Let's vow to be intentional spenders and smart savers when it comes to money and getting through college!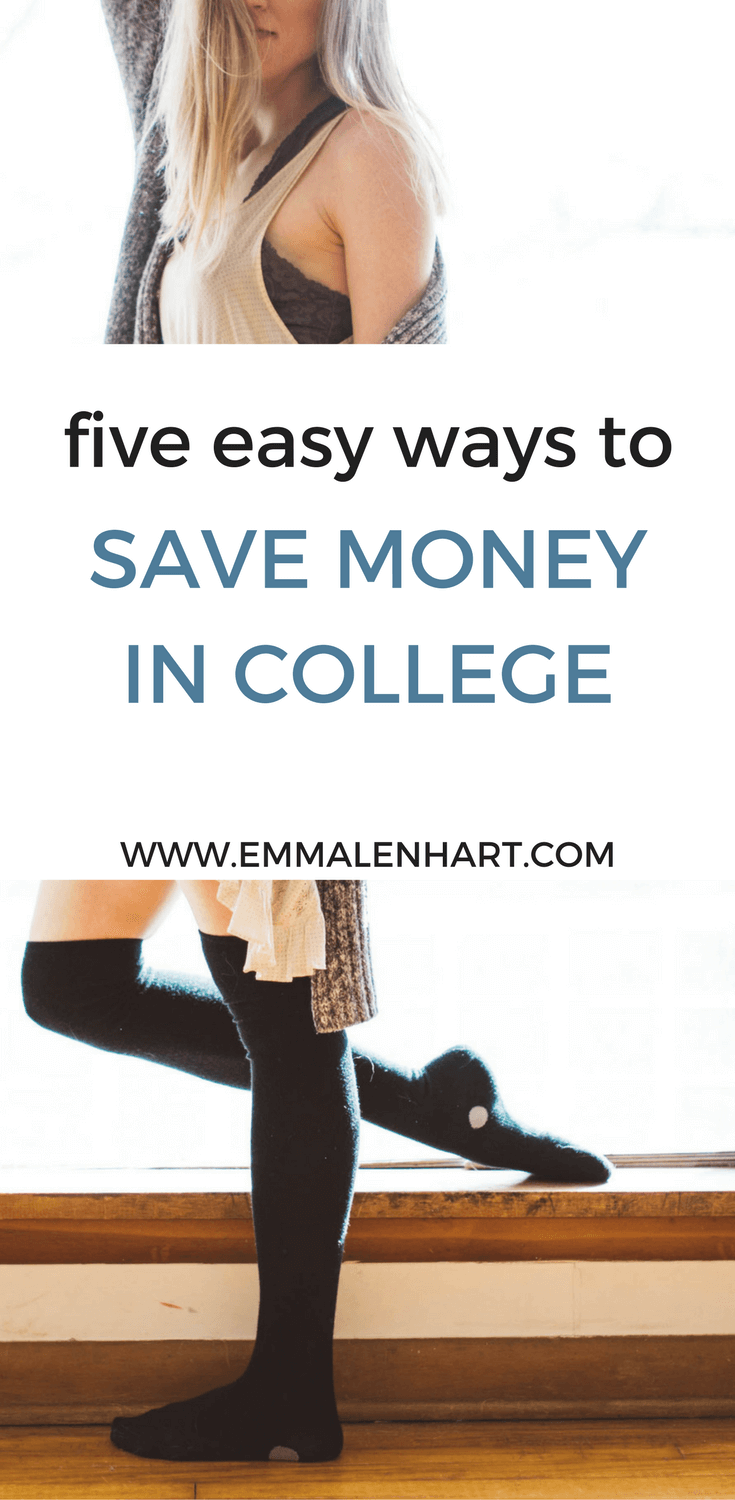 5 Easy Ways to Save Money in College
1. Rent Your Textbooks
Textbooks are one of the most expensive things you have to deal with in college. Unfortunately, you cannot avoid having to get textbooks for some classes as some professors teach strictly from the book. However, I would recommend asking other people who have taken the class before you if the book is necessary for the class. Or, check www.ratemyprofessors.com and read other student reviews to see if the professor uses the textbook for the class.
If you absolutely must get the textbook, always RENT instead of buy! College bookstores allow you to rent textbooks for the term instead of buying the book. This is extremely helpful since most textbooks are somewhat obscure and can only really be used in a classroom setting. No sense buying a textbook you are only going to use for a semester and then never look at again.
If you need to buy a book or novel (sometimes needed for English classes), check eBay or Amazon for used versions of the book instead of going to your college bookstore or Barnes & Noble and paying full-price for a brand new copy. Renting your textbooks or buying a used version is a super great way to save money in college, and has worked for me very well.
Renting your textbooks or buying a used verison is a super great way to save money in college, and has worked for me very well.
2. Use Your Meal Plan
College meal plans are very expensive and I've known some people that don't use up their money before the year is over. It depends on which school you attend, but some meal plans don't roll over to the next year if there is a remaining balance. This means that any money or "swipes" you don't use from your plan automatically disappears and goes back to the school.
Using your meal plan to the full extent may seem bothersome and the food may get old, but it's worth it to eat your meals at school if you already have a meal plan. Also, make sure to check and see if your school offers different dollar amount meal plan levels. You could be paying for the highest meal plan when you really may only need/want a smaller one to grab a snack on campus every now and then.
Another tip to use your meal plan and save money is to shop for small, household items at your school. Most universities have a small market or convenience store that you can use your meal plan balance at. While the items there are usually over-priced, it still makes sense to use your meal plan balance for things like toothbrushes and cleaning supplies rather than going to a convenience store like Walgreens/Target.
3. Make a Budget
Budget is such a daunting word. Never in my life have I looked forward to budgeting my money or making a plan with it, but it is needed if you want to save money fast. Luckily, there are tons of iPhone and Android apps available to help make budgeting less stressful.
Goodbudget is an app that tracks your expenses and helps you stay on track with your budget. The app is free and tracks how you are doing with your money throughout the month. The app also allows you to share your budget with other people through syncing, which can be helpful if your parents want to track how you are spending your money at school.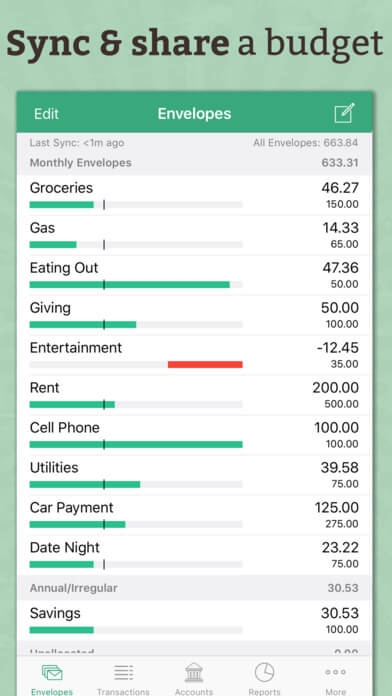 4. Have a Side Hustle
Saving money in college is only an option if you have some money coming in. Looking for ways to make money fast in college? Check out this post, where I talk about ways to make money as a college student.
If you don't think you have time for a full-on job, or are a freshman and still getting adjusted to the college lifestyle, consider having a "side hustle." A side hustle is something you can do in your free time and usually doesn't require having a set schedule or even a boss managing you.
My favorite side hustles are all online and have given me tons of flexibility with my money in the past. A great side hustle to do in college is taking online surveys, where marketers pay you to give your input about various products and services. The best website I've found for doing this is Opinion Outpost. The website is completely legitimate and both my sister and I have used it in the past (and even now) to make extra money. The surveys are interesting and the payout can be in gift cards or even on PayPal. Score!
Click here to register for Opinion Outpost and start earning money today. It's extremely easy to sign up and you can start earning cash now!
5. Shop Around for Housing Options
When people think about housing options at college, they normally picture themselves living in a dorm or on-campus housing for the majority of the time. However, this is not always the cheapest way to go and looking for housing off-campus can sometimes help you save money.
In fact, at the university I attend, living off campus is significantly less expensive. Sure, I have to pay my own utilities and have to deal with having a landlord, but I also get great benefits like not having an RA or quiet-time hour restrictions.
When looking for housing, make sure to do your research and compare the cost of living on-campus in a dorm or apartment and living off-campus. Living off-campus isn't as scary or bothersome as it sounds and can be just a short walk to class. Call realtors that represent apartments/housing around your school and inquire about the monthly rates and rent. Then do the same and research what it costs to live on-campus or in a dorm at your school. Don't make the mistake of always assuming that living in a dorm is better or cheaper!
---
How do you save money in college? Do you have any tips for how to save money in college that I didn't mention?
Pssst! If you liked this post + learned something new, I would love for you to share it with your friends. Sharing this post takes just a few seconds + helps with the growth of this blog. Click the blue social sharing buttons to the left or at the top of this page. Thank you!
*This post does contain affiliate links.*