*This post does contain referral links. However, I personally use (and love) Opinion Outpost!*
No, it's not too good to be true. This way of making money online fast isn't a scam, but it also isn't a "get rich quick" scheme. However, I do know how to make money fast for some extra cash, using and completing online surveys.
I discovered online surveys back in high school when I was looking for ways to make extra spending money and wanted to start saving up. I've tried many different programs and websites, (trust me there are a lot of them out there), and Opinion Outpost is genuinely my most favorite option to make money fast.

This post will introduce you to the wonders that are online surveys, and more specifically, Opinion Outpost. Ready to make some cash (or should I say, fill up that PayPal balance?) Let's get to it.
Looking for more ways other than just online surveys to make money? Check out this post here for 6 other ideas on how to make money online fast.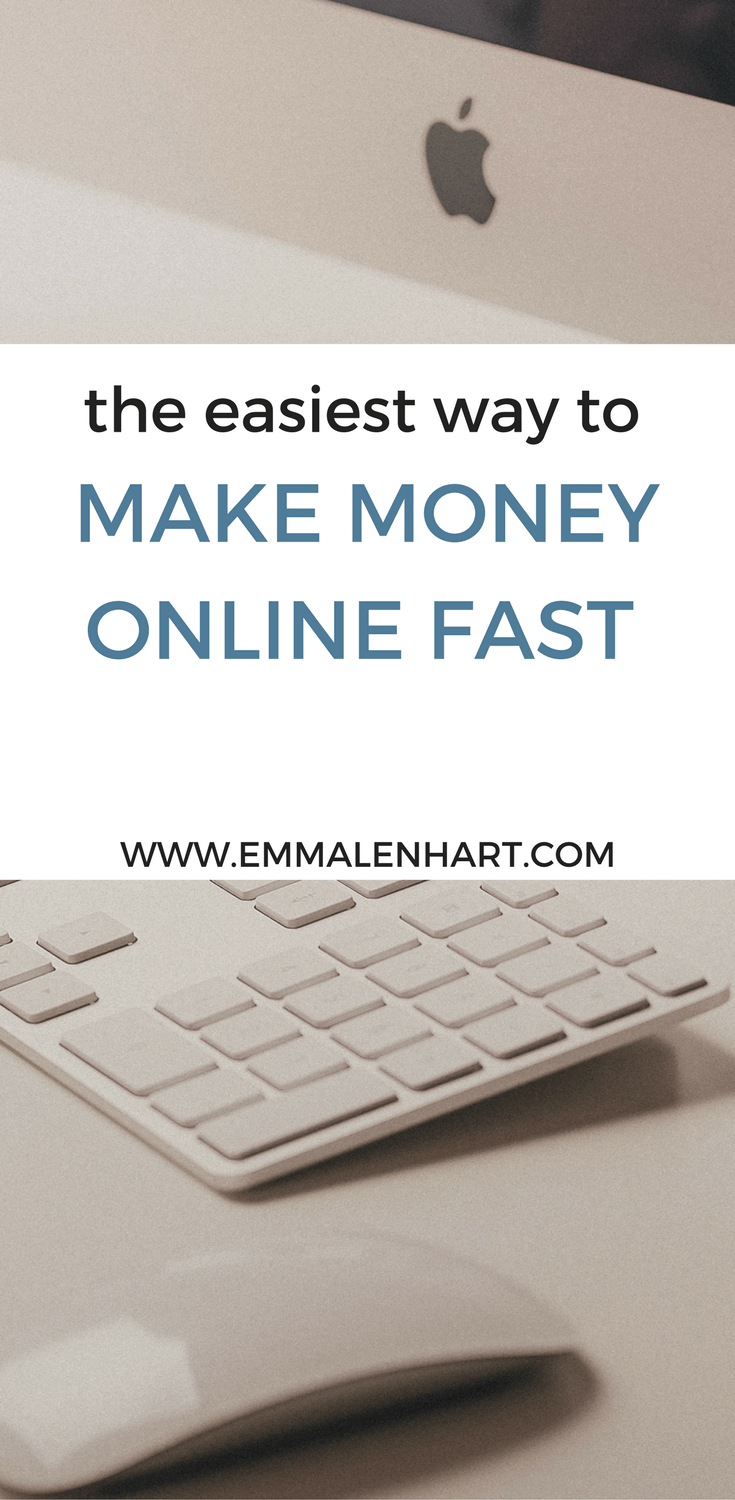 Make Money Fast Using Opinion Outpost
What is Opinion Outpost?
Quite simply, Opinion Outpost is a website that pays people to complete surveys. After completing a survey, you can earn points, which can later turn into rewards, as a member. These rewards can be anything from cash to Amazon gift cards, etc.
Companies and brands rely on customer and user feedback in order to create new ideas and improve their existing products and services. Lots of companies need consumer opinions, and Opinion Outpost acts as the go-between between you and the brand. It's like an online focus group! The truth of the matter is that your opinion is valuable, and providing it to companies is definitely means for getting rewarded 🙂
How to Start Earning With Opinion Outpost
Completing surveys and being on the road to earning money online has never been easier. I love Opinion Outpost because of how user-friendly it is, and uncomplicated.
Create an Account
The first step you need to take before you can start earning is to create a new account. Click here to be brought to the page where you can sign up.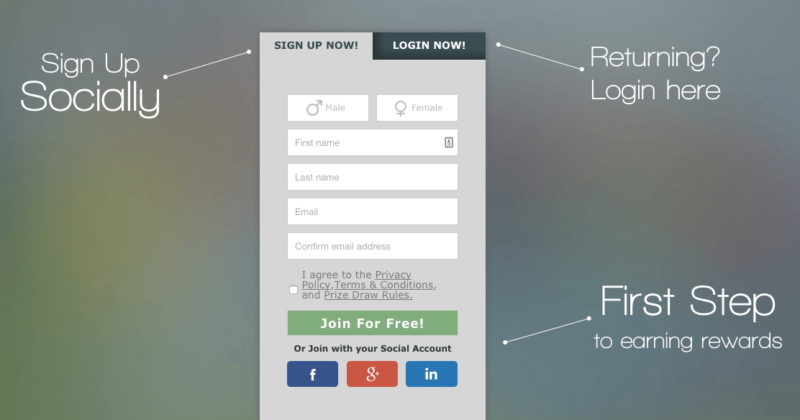 To make it even easier, you can actually join Opinion Outpost and become a member by using one of your social media accounts (like Facebook!)
Take Screening Tests
The companies that partner with Opinion Outpost want to get real and valuable answers for their surveys in order to make a better experience/product/service/etc. Because of this, Opinion Outpost will "screen" you by asking you to answer some questions before you even enter a survey.
Doing this allows Opinion Outpost to match you up with the most relevant survey and brand, based on your interests and profile (age, gender, etc.) When you first sign up for an account, you will be asked to complete a profile so that the website can accurately pair you to the right surveys!
Completing Surveys
If you sign up for emails from Opinion Outpost, you will be notified whenever a new survey is available for you to take. In order to complete the survey, log into your account like normal.
Click on the "Take Survey Now!" button that will allow you to enter into the screener test or survey. Keep in mind that not every survey available is going to be right for you. If the area in which you work (or any other factor) seems to contradict the survey or interfere, you may be redirected back to your homepage. It can be frustrating at times, but stick with it! The right surveys will present themselves and you will be earning points in no time.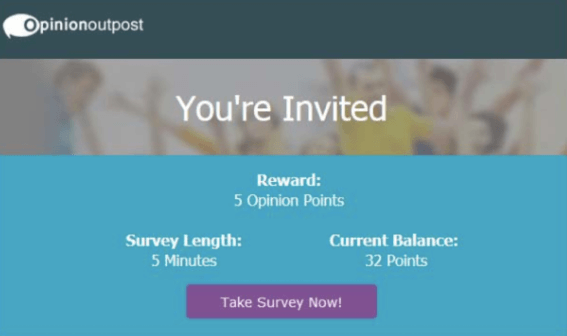 I would definitely recommend signing up to receive emails whenever new surveys are available for you so that you don't miss out.
What are the surveys about?
The surveys on Opinion Outpost range from anything from entertainment, food, shopping, lifestyle, and more. I love the surveys because a lot of the time, they are genuinely interesting and fun. I once completed a survey that quizzed me about the TV shows I had watched in the past month, and about their plot lines/characters. It was like a trivia game, but even better, because I was getting paid to play 🙂
Earning + Redeeming Rewards (Cash!)
My favorite way to redeem my points when using Opinion Outpost is with a PayPal balance because I can easily transfer that money to my bank and then spend it on whatever I want. I know my sister has done this, too.
However, there are lots of different options on how you can redeem your points, like gift cards to places like iTunes and Amazon. It's all personal preference!
How long does it take to cash out?
It's hard to put an exact amount on how long it will take you before you can cash out the first time. Back in high school when I was a hard-core Opinion Outpost user, I would log into my account and complete any available surveys for me before I went to bed. I usually was able to rack up 100 points/week, which equated to $10 in PayPal.
However, the earning potential for Opinion Outpost (and any other online survey site) is unlimited in many ways. The amount of time and effort you put into completing surveys will prove to be fruitful in your return. I've read that some people make upwards of $100/week by completing online surveys…it really depends!
The great thing is that you get to decide how much time you want to put into it. If you have some free time, why not answer a survey or two? It's a great way to utilize your free time and make money fast online.
Opinion Outpost Testimonials
You don't have to take my word for how awesome Opinion Outpost is! Check out these testimonials from people have been using Opinion Outpost for themselves.
"Due to family issues, I had to quit my job to care for my elderly parent. Opinion Outpost has made it possible for me to always have extra funds in the event a bill is higher than expected." —Ila, Texas
"I like being part of the driving force in developing new products and being part of the pulse of the imagination nation." —Jo, Missouri
"I have been able to buy all of my families Christmas presents with my survey money only!" —Cheryl, California
What are you waiting for?
Seriously! Opinion Outpost is awesome and I can personally tell you that because I have been using it for years to make money fast online. I also told my sister about it and she has used it too!

I love it so much and hope that I can help even one person make some extra money with this post. Click here to set up your account and start earning today!
---
What is your favorite way to make money fast online? Let me know in the comments!
Pssst! If you liked this post + learned something new, I would love for you to share it with your friends. Sharing this post takes just a few seconds + helps with the growth of this blog. Click the blue social sharing buttons to the left or at the top of this page. Thank you!