Welcome to my interview series!
Today I am interviewing Reese, from Yes Supply. I've been reading Reese's blog and following her on social media for over a year now. I love her brand and message, where she strives to help female creatives, and future girl bosses create a blog, business, and life they love. Sounds good, right?!
I got the opportunity to interview Reese and I'm so excited for you all to read it. Feel free to take inspiration from her and follow along on her journey.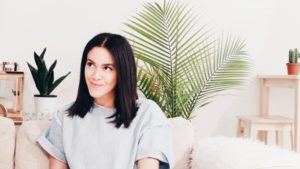 Thanks so much for agreeing to come on the blog and be interviewed as a girl boss! Obviously, you're doing something right 😉
Can you start by introducing yourself and your blog/brand?
Hey I'm Reese and I'm the founder of yes supply. I dreamt up yes supply as I found there was a need for support for women and creatives who wanted to build their business, brand and life of their dreams, but didn't know where to look for support and advice.
As a woman, I've always found it hard to get access to a mentor who was willing to help give me guidance, and support me on my journey. When I looked to online interviews of people who had 'made it' their advice always alluded to the fact that they just fell into their dream job.
Although that might be true for some, I am quite aware that throwing yourself into the life of an entrepreneur comes with it's fair share of obstacles.
I started it as a platform to have honest conversations with successful entrepreneurs who were willing to share their advice on how they achieved their dreams.
Since then, it's transformed into a platform to encourage self-love and self-belief, which I think the lack of is the biggest obstacle to creating a life you love. Many people think that you need a degree, 100 years experience and a ton of connections to create the life you want. But the most important foundation you need to have is one of belief that you can do it, and in your mission that you want to accomplish.
I have now created Good Morning Beautiful, which is a daily motivational email. Hundreds of women have subscribed to these emails that share a daily inspirational quote, a show you how to stay focused on your goals, and help overcome the type of struggles that females deal with every day, from building confidence, to networking, or overcoming insecurities.
Women who sign up for Insiders, get access to Good Morning Beautiful, an online community of like-minded ambitious gals, plus an online space with video tutorials I've created on these issues everything from owning your morning rituals to how I've built my social media following and blog. Blogging has been absolutely life-changing for me, so I wanted to break it down and make it really easy for someone else who wants to get into this world too.
I often bring in guest entrepreneurs to lead the online workshops, and share their own perspective of building their own businesses. This, along with featuring my insiders on the blog build the community even more.
How did you get into the career path you are into now? Did you always know that you wanted to be a blog/business owner?
I didn't always know that I wanted to get into this path, although I had the entrepreneurial bug for a while. I actually used to be a freelance stylist, and while building my business I realized that there were not enough resources, and enough honest role models, to look up to and get advice on growing your own business.
I started yes supply to inspire people to create a life they want, and to create a resource where people could get this kind of info.

What is your mission in your business? How do you seek to help others?
My mission is to help people get out of their own way, and only take yes for an answer.
So many people don't reach their goals because they gave up the first things times got tough. I always say "People don't fail because they can't, they fail because they don't."
My insiders portal gives lessons, advice, and motivation to help wanna-be entrepreneurs take on those first tough steps of entrepreneurship, and get access to mentors in the masterclasses to give advice and answer important questions.
What does a typical day look like for you working as a creative entrepreneur?
I think when you're a one-woman show, nothing is quite typical. It really does change from day to day, but it always includes focusing on growing my community of amazing ambitious women, and encouraging the people who are already in it to continue to go after their dreams.
I think when you're a one-woman show, nothing is quite typical.
Click To Tweet
Who is another girl boss that you admire or look up to? 
A girl boss I admire is Tina Roth Eisenburg. Her motto is that if she finds herself complaining about something more than a few times, then she'll dream up a product or invention to solve it.
So many people get caught up in complaining about what they don't want, instead of finding a way to create what they want, which does not help anyone move forward. She's created a ton of admirable products, without compromising on her personal standards.
Can my readers follow you on any social media to keep up with your greatness?

Of course!
They can find me on instagram (where I tend to find myself the most) at instagram.com/yessupply. My twitter is twitter.com/yessupply, and I have a recent love for pinterest at pinterest.com/yessupply.
You can also find me on facebook on my page, or join my free facebook group of ambitious girl-bosses, the yes supply society.