If you're looking for how to sell products online, you've landed in the right place. Don't worry. It's not hard to start selling online. You don't need to know how to code, build a website from a scratch, or even deal with shipping out orders.
And, you don't even have to sell physical products online. If you are a blogger/entrepreneur and want to sell digital products like e-courses/ebooks online…you're also included in this post 🙂
Ready to find out how it can be done?
How to Sell Products Online (The Easy Way!)
If you're looking to sell your own products online, you may feel inundated with options and different software systems. There are a lot of different websites you could go with, but I have found that Shopify is the easiest software…and you can get your store set up in under an hour!
Why Shopify?
Shopify is the best option for ecommerce because it's simplicity, but it also has a ton of benefits. With Shopify, you get your own custom domain name and online store. Your Shopify is automatically made to be mobile-friendly, and SEO (search engine optimization) which is a total lifesaver.
Plus, the Shopify system deals with all the "hard stuff", like marketing, payments, checkout, and shipping. All you need to do is create your own unique store and focus on all the fun stuff about running an online store 😉 You'll even get to view your store's analytics (how many people are coming to your store/clicking your links) with Shopify.
There's truly no other option out there right now that compares to Shopify.
How do I get started?
Getting started is easy. If you click here, you will get an exclusive 14-day FREE trial of Shopify (no credit card info required!) This free trial is great to see if you like Shopify before you pay for the service (trust me, you're going to like it.) You don't even have to give your credit card information to Shopify in order to get the free trial.
Get Your Shop Set Up in Under an Hour
First, you're going to want to head to the Shopify website and enter your email address to start your 14-day free trial. After doing this, you will be able to select a store name and set up a password. Shopify will ask you a few different questions after selecting your store name, involving your tax rate/etc.
Next, you'll be able to start customizing your store (the fun part!) There a lot of different Shopify themes you can choose from in the theme store. Have fun and try out different themes to find the one that you love!
Make sure to choose a domain name for your store. This is what people will type into their web browser to find you, so make sure it relates to your store and is easy to remember.
The next step in the process of setting up your store is to choose a payment processor. Shopify supports lots of different processors, like PayPal, Stripe, and more. This will determine how you collect payment from your customers visiting and purchasing from your store.
Now comes the crucial step: adding your store's products. It doesn't matter whether they are digital or physical, Shopify supports it all! Make sure to fill in the details + add an image for each listing.
After completing all of the above steps, you are ready to click "Launch" and show your store to the world!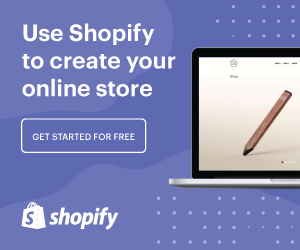 How to Further Customize Your Store
Did you know that you can add special apps to your Shopify store to customize it even more? It's true! And a lot of the best apps are free (yay!)
Here are some apps you may want to add:
Shopify Reviews: add some social proof to your store by allowing your customers to add reviews to your products! This also helps with search engine optimization (which means more traffic to your store!)
Sweet Tooth: this app lets you start a loyalty program for your store. This is a great way to ensure that you get repeat/return customers. And, it's free for the first 500 members of your loyalty program!
Want more ideas for Shopify apps to add to your store? Check out this guide of 10 Free Shopify Apps by Love Kait.
---
Have you ever tried to sell digital/physical products online before? Let me know!
Pssst! If you liked this post + learned something new about how to sell products online, I would love for you to share it with your friends. Sharing this post takes just a few seconds + helps with the growth of this blog. Click the blue social sharing buttons to the left or at the top of this page. Thank you!
*This post does include referral links. All opinions are my own.*