Survey sites are an awesome resource to use for making extra income. While taking surveys won't replace your full-time income, they do help with earning extra cash. Instead of surfing the web endlessly for hours, why not give your opinions to companies and earn money while doing it?
Surveys are easy to complete and can even be fun! If you complete all of the survey opportunities sent your way, you can make $100+ per month.
I've used lots of different survey sites, and today I am rounding up my 3 favorite sites to use. All of the sites below are completely FREE to sign up for, so I would recommend registering to all of them (more opportunities to earn cash!)
Related blog posts:
3 Best Online Survey Sites to Use for Making Extra Money
Pinecone Research is one of the best online survey sites out there, and they also have high payout rates for each survey they offer. The more time you invest into taking surveys, the more money you can make!
Another cool thing about Pinecone Research is that you can be sent free products to review for them. This can be anything from shampoo, body lotion, etc.
Easily sign up for Pinecone Research here.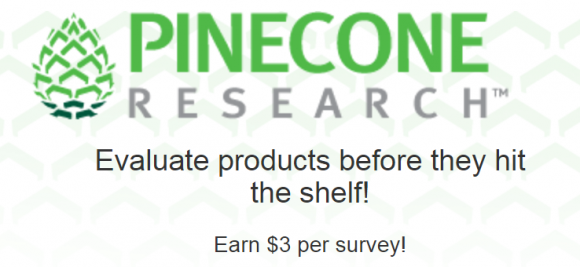 If you haven't heard about Opinion Outpost yet, you're missing out. Opinion Outpost is probably one of my favorite survey websites ever because of how easy it is to use, and how many opportunities you get to take surveys.
I like Opinion Outpost because they email you whenever a new survey is ready for you, which eliminates the waiting game. For every survey you complete, you earn points. 100 points = $10, and each survey is usually worth 5-20 points. It's easy to accumulate points with Opinion Outpost (yay!) Opinion Outpost can also pay you via PayPal, or your points can be turned into gift cards.
Start earning with Opinion Outpost by clicking here.
I LOVE SWAGBUCKS. There, I said it.
If you are looking to make some extra cash without much effort, Swagbucks is the site for you. And guess what? You get $5 just for signing up here!
While there are lots of different ways to earn with Swagbucks, one of my favorites is with surveys. Swagbucks has lots of different surveys that you can take on their website, and then redeem your bucks for rewards like Amazon gift cards, PayPal cash, Walmart gift cards, and more. They even have certain rewards that go on sale, meaning you can get more cash for fewer Swagbucks than normal.
Get $5 just for signing up by clicking here.

You Can Get Free Gift Cards For Shopping, Searching and Discovering What's Online at Swagbucks.com
Tips for Taking Online Surveys:
Always be honest when you are answering your surveys. It will only hurt you to be inconsistent in your answers since brands are looking for a specific type of person for some surveys. If you answer what your age is differently every time, you probably won't get recruited for any new surveys.
Sign up for as many different survey websites as possible. There can be dry spells in the online survey world where you may not get a new survey opportunity for awhile. To avoid this, make sure you are registered with multiple websites.
Tell your friends + family about your favorite surveys sites! A lot of times, you can earn extra points/cash just for referring people under your name.
---
Do you use survey websites? What do you think are the best online survey sites? There are lots of websites out there, so I would love to hear about your favorites in the comments. 
*This post does contain referral links. All opinions are my own.*