*This is a sponsored post in collaboration with Pier 1. Items received were gifted, but all opinions are my own.*
Spring cleaning may be necessary, but you know what's even better? Spring REDECORATING!
I've teamed up with Pier 1 to give my bedroom a facelift for spring. I'll be sharing how I decorated my room for spring, to give it a cozy yet minimalistic vibe.
I hope you get inspired by this post to switch around your bedroom and liven it up for spring!
My Bedroom Refresh with Pier 1 Imports
My Bedroom + Style
Before we dive into the decor, let me paint a picture for you of my bedroom. One thing to keep in mind is that it is not big. In any sense of the word. Granted, I am a college student living in Chicago, so space is limited.
However small my room may be, I like to maximize my space and make it feel as inviting as possible. Since I work primarily from home, my bedroom is both my office + cozy space. Working + living in a comfortable space is very important to me!
I wanted to add some flair to my room for spring and add some more texture/variety to my bedroom. As I previously mentioned, I tend to be minimalistic in design, so I stuck to neutral colors for the majority of my decor. I like pops of color to come from greenery/plants in my decor.
The Decor
My bed is my sanctuary, so making it as fluffy + cozy as possible is essential to me. I like to keep my room as light and airy as possible and maximize the small amount of space that I do have. I found some awesome throw pillows from Pier 1 that I used to add texture and spunk to my otherwise minimal bed. And, because I couldn't resist, I got 2 new white, fluffy down pillows for my bed. They are SO comfortable and make it feel like I'm sleeping on a cloud.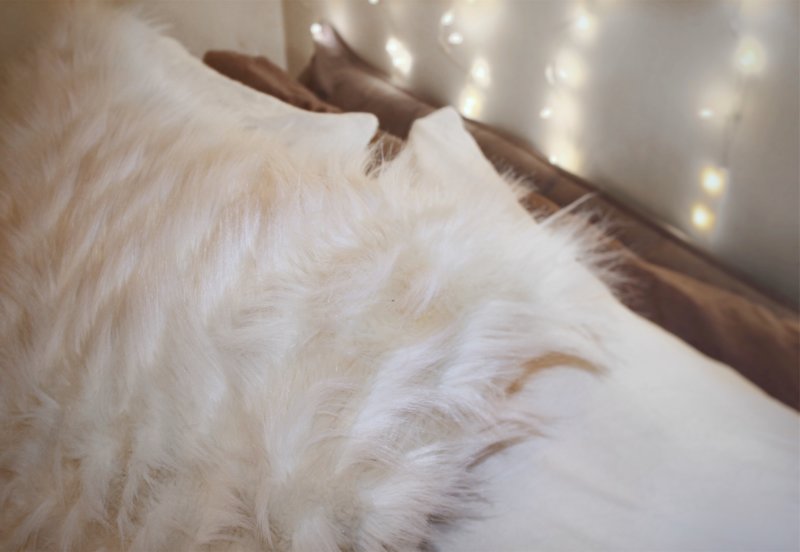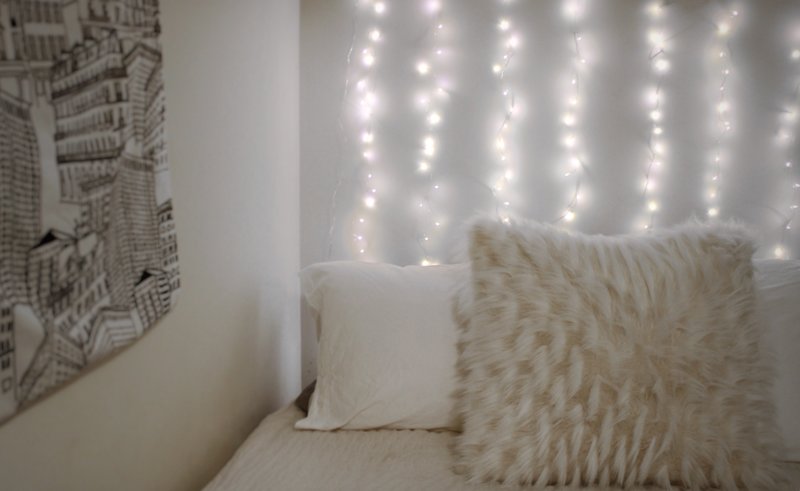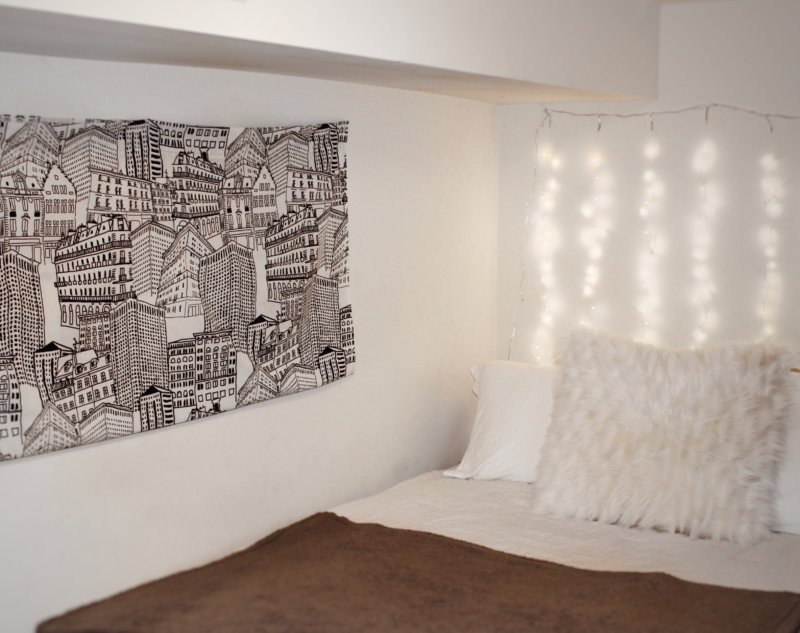 With limited space comes one big problem: where the HECK will all of my stuff go?! Living in the city has taught me that space is precious, and every square foot should be multi-purposed. I have been storing all of my shoes underneath my bed for months, but always hated how messy it looked.
Pier 1 solved this problem for me with their bed skirts, which conveniently conceals all of my shoes. And trust me…I have a lot of shoes.
Perhaps my favorite part of my new room decor are the fairy glimmer lights that hang behind my bed. I don't have much room for a headboard, but the lights act as a makeshift headboard and frame my bed nicely. Plus, they come with a remote control to turn them on/off, so I never have to even leave the bed to turn them off when I'm falling asleep at night.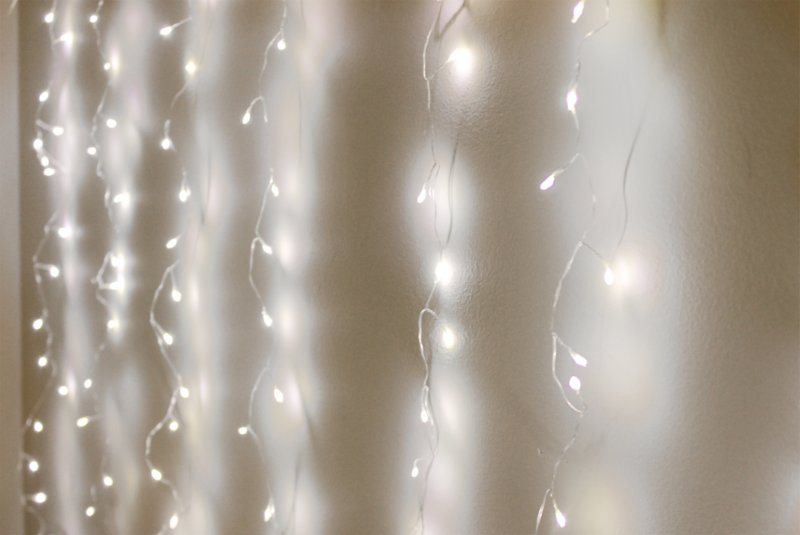 I live in a house with 4 other girls, so I constantly have one (or all) of my roommates in my room hanging out. Although I don't have a lot of physical space, I like to make sure that I have comfortable spaces for people visiting me to sit/hang out.
My brand new rug makes my room feel that more inviting and is a lot more interesting than my plain brown carpeting. Pier 1 also has an awesome pillow selection that I used to my advantage to make more seating on the ground for my guests. The gray pillows you see (above) are also great because they can be used as decor both inside and outside since they are weatherproof.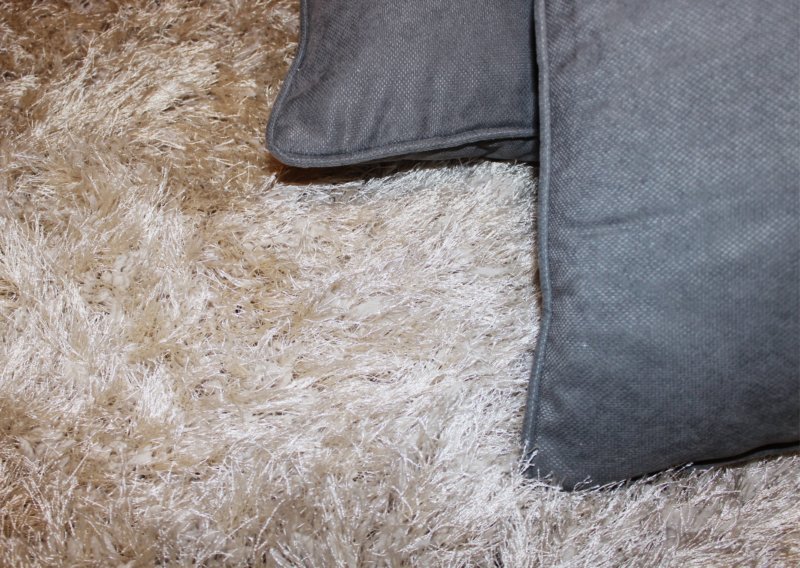 So…I can't keep a plant alive to save my life, but luckily Pier 1 has got me covered with their faux plants. My pick was this agave plant because it looks *so* real, (I've fooled 2 of my roommates already), and the marble pot it comes in really adds something unique to an otherwise boring corner of my room. I also like the way that the marble pot looks against the exposed white brick here.